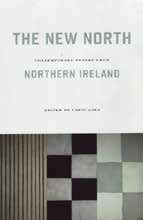 The New North:
Contemporary Poetry from Northern Ireland
Wake Forest University Press, 2008 and Salt, 2011
Edited by Chris Agee
ISBN: 978-1-930630-35-2
Purchase
The New North is a landmark anthology of contemporary poetry from Northern Ireland with a wide-ranging introduction that gives the reader valuable historical perspective into political and cultural contexts. A brief of selection of classic poems by more established authors introduces the featured poets (born between 1956 and 1975); together they represent the past and future of poetry in this small but fertile culture. Though descent and pastiche, influence and departure, the younger poets respond to the North's rich poetic tradition, as well as previous political and social realities, yet reveal that other styles and subjects are equally important to their art.
"These poets are much more likely to be interested in new technology, ecology, Eastern Europe or bilingualism, than in any expected manifestation of the 'the Northern issue' … It is indeed the poetry of a new North" (from the "Introduction").