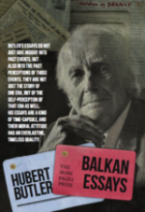 Balkan Essays by Hubert Butler
Edited by Chris and Jacob Agee
The Irish Pages Press, 2016
ISBN: 978-0-9935532-0-2
Born and raised in Kilkenny, Ireland, Hubert Butler (1900-91) – often described as "Ireland's Orwell" – is now widely considered one of the great essayists in English of the twentieth century. Proud of his Protestant heritage while still deeply committed to the Irish nation, he sought in his life and writing to ensure that Ireland would grow into an open and pluralistic society. His five previous volumes of essays (published by The Lilliput Press) are masterful literature in the tradition of Swift, Yeats and Shaw, elegant and humane readings of Irish and European history, and ultimately hopeful testimony to human progress.
Butler wrote on a wealth of Irish topics as diverse as the Irish Saints, archaeology, local history, the Anglo-Irish Big House, the Irish Literary Revival, the Churches, nationalism, republicanism, and Partition. A writer for whom "the ethical imagination" was paramount, he also wrote many essays addressing twentieth-century cultural nationalism, the dangers of globalization and mass communication, the search for humane community, racialism, Mitteleuropa, Stalinism, and the Holocaust.
Widely travelled in the Balkans, Butler wrote on a wide variety of subjects con- cerning his experience of the region, much of which remains deeply relevant to the recent history of Croatia, Serbia and Bosnia. He lived in Yugoslavia between 1934 and 1937, and spoke Croatian fluently. Much of Balkan Essays deals with the genocidal Quisling regime of the Independent State of Croatia (1941- 45) and the collaborationist role played by the Catholic Church and, particularly, by Archbishop Stepinac – a topic which embroiled him in a major controversy in 1950s Ireland, and continues to polarize the political and cultural life of post- communist Croatia. For the first time, the extraordinary body of Butler's Balkan work is brought together in a single volume.